District Calendar
Add all District events to your smartphone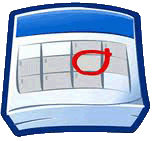 Why not subscribe to have all District events instantly in your smartphone calendar, just click here. For Android smartphones this will work instantly, for iPhones and Windows phone you may need to sign up to a google account, you may also need to download Google Sync. or go to m.google.com to download the google calendar app.
---
District BBQ - Saturday 12th August
The District Barbeque will be held on Saturday 12th August at the home of Phil and Liz Barnes, starting at 3pm and continuing until early evening. To cover the cost of the food please bring £5 per person on the day. Home brew and other beer will be available but please bring your own soft drinks, wine etc.

We need an idea of numbers so we can make sure we have enough food, so please email Liz on lizzie@piltdown.org.uk by Monday 7th August if you plan to come.

This is a great opportunity to socialise with other ringers in the District, have fun, play a few games and even do a little ringing in a low stress environment.

Full details, including directions to the venue can be found here.
---
9

th

September

- District

Practice

at

St Michael & All Angels, Maidstone

For our next District Practice we move across Maidstone to St Michael and All Angels in Tonbridge Road (8 bells - 6¼

cwt).

The date is Saturday 9th September and ringing will be from from 10am to 12noon. As usual there will be ringing to suit all levels of ability from Rounds and Call Changes upwards. Everyone is welcome.
---
14

th
October

-

Annual

District

Meeting

at

Leeds

The Annual District Meeting will be held at Leeds (10 bells - tenor 17½cwt) on Saturday 14th October. Please note that this will be an afternoon event. There will be ringing from 3pm - 4.30pm followed by a service. Tea will be at 5.30pm, followed by the Business Meeting and further ringing afterwards if time and numbers permit. Ringing will be to suit all levels of ability from Rounds and Call Changes upwards.

All members are encouraged to attend this meeting as we will be electing our District Committee for 2018. Better still, why not put yourself forward for election? Several of the existing Committee members are standing down this year, so there will be some vacancies. If you are interested please speak to one of the existing Committee who will be pleased to tell you what it involves.
---