District Calendar
| Date | Event | Venue |
| --- | --- | --- |
| 11/03/2017 | Striking & Call Change Competitions | East Farleigh |
| 08/04/2017 | District Quarterly Meeting | Aylesford |
| 17/04/2017 | County AGM | Cranbrook |
| 13/05/2017 | District 10-bell Practice | All Saints, Maidstone (tbc) |
| 10/06/2017 | District Practice | Wateringbury (tbc) |
| 08/07/2017 | District Quarterly Meeting | Barming |
| 12/08/2017 | Social Event (to be decided) | (tbc) |
| 09/09/2017 | District Practice | St Michael & AA, Maidstone |
| 23/09/2017 | County 6-bell Competition | Maidstone District (date & venue tbc) |
| 14/10/2017 | Annual District Meeting | Leeds |
| 11/11/2017 | District Practice | Hunton (tbc) |
| 09/12/2017 | District Carol Service | Addington (tbc) |
| 13/01/2018 | District Quarterly Meeting | Linton (tbc) |
| 10/02/2018 | District Practice | Boxley |
| 10/03/2018 | Striking & Call Change Competitions | Ightham |
Add all District events to your smartphone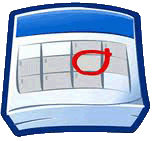 Why not subscribe to have all District events instantly in your smartphone calendar, just click here. For Android smartphones this will work instantly, for iPhones and Windows phone you may need to sign up to a google account, you may also need to download Google Sync. or go to m.google.com to download the google calendar app.
---
1

1

th

March

- District Striking Competitions at East Farleigh
The 2017 District Striking Competitions will be held on the back six at East Farleigh (tenor 7¾cwt) on Saturday 11th March. The bells will be available for open ringing from 9.30am with the draw taking place at 9.45am. Competition ringing will commence at 10am.
As usual there will be separate competitions for Call Change bands and for Method ringing bands, with a trophy on offer in each category. This ensures that those bands who do not have enough ringers able to ring methods can still enter and enjoy the challenge of pitting their skills against other call change bands in the District. For the competition rules follow the respective links above.
---
8

th

April 2017

- Quarterly Meeting at

Aylesford
The Spring District Quarterly Meeting will be held at Aylesford (8 bells - 13½cwt) on Saturday 8th April. There will be ringing from 10am to 12.30pm, with a break for tea and the Business Meeting at 11am. As usual, there will be ringing to suit all levels from Rounds and Call Changes upwards. The Agenda for the Business Meeting will be posted here nearer the time.
---
Easter Monday

1

7

th

April

-

County AGM

at

Cranbrook

This year's County Annual General Meeting will be held at Cranbrook in the neighbouring Tonbridge District on Easter Bank Holiday Monday 17th April. There will be a service at St Dunstan's church, Cranbrook at 12noon followed by lunch (pre-booking essential) at approximately 1pm and the AGM at 2.30pm. There will also be towers open in the morning en route to Cranbrook and on the way home after the meeting. Full details can be found by following the link to the AGM Brochure.
---