The Kent County Association of Change Ringers
The Kent County Association of Change Ringers (KCACR) was formed in 1880. Today the KCACR has some 1500 ringing members and is one of the largest territorial ringing associations in the country.
Its aims are:
the establishment, maintenance and encouragement of service ringing at churches in its area
the recognition of ringers as church workers
the proper care and use of bells and belfries
and the cultivation of the art of change ringing.
As in 1880 our primary objective is to ensure that Sunday service ringing is maintained in churches in Kent, and to this end we concentrate our energies on the recruitment and training of new ringers, the encouragement of ringing as a duty and as a hobby, and the repair and maintenance of church bells.
The KCACR holds ringing meetings, usually on Saturdays. In most areas, too, there are non-ringing events such as barn dances, trivia nights, car treasure hunts and so on, usually arranged to help raise money for bell restoration projects in Kent.
The KCACR is one of some 70 ringing associations affiliated to the Central Council of Church Bell Ringers. Because of its geographical shape and size, the Association is divided into six Districts. The other five are Ashford, Canterbury, Lewisham, Rochester and Tonbridge. Each year on Easter Monday all six Districts join together for the Annual General Meeting when we ring, worship and lunch together, as well as holding a business meeting.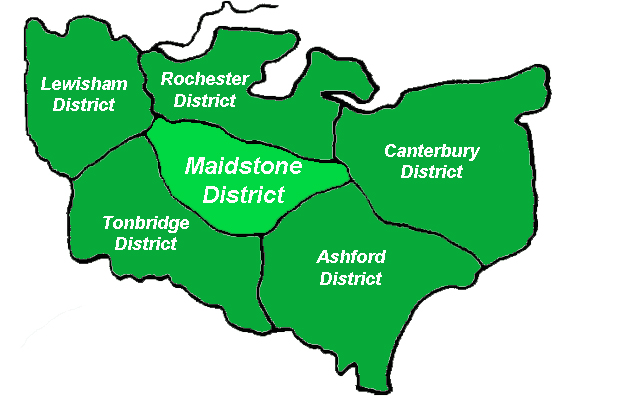 The Maidstone District
The District covers an area of about 150 square miles, stretching from the foot of the North Downs southwards to the Weald of Kent and taking in the valleys of the Rivers Medway, Teise, Beult and Len. There are 37 churches in the District with three or more ringable bells, plus one private ring of twelve. Most have a regular practice night, at which visitors are always welcome. For more details follow the link to our Tower Directory.
To see our programme of events for the rest of the year click on the link to Calendar of Events.
Links to Other Districts